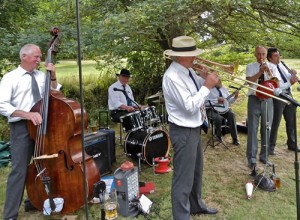 Welcome to my absolutely free erotic exotic sexy porn free JAZZ site
We play JAZZ in the NEW ORLEANS style for the discerning and you don't have to be an ageing hippy to get sent.
Based in Saffron Walden in North Essex, we concentrate on the South East with the music of Louis Armstrong, Bix Beiderbecke, Fats Waller, ODJB , Kenny Ball and dozens of other  JAZZ icons. Occasionally we even go on tour within Europe
You'll be gobsmacked by our annual Norfolk Broads "WATER-RATS" tour every July. Go to www.water-rats.co.uk
I'm the drummer man (possibly East Anglia's finest percussionist) and I've been at it for fifty years or so. To book us, call me (Uncle Barry) on 01799 584301 or 07773 301772.