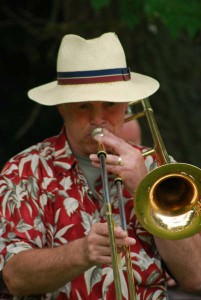 Just like the finest symphony orchestra, I choose from a pool of magnificence.
TRUMPET/CORNET
Richard Church, Andy Moran, Alan Gresty, Mike Cotton or Max Emmons

CLARINET, ALTO & TENOR SAX
Tony Teale,  Paula Jackman, Goff Dubber or Karl Wirrmann
TROMBONE
The highly talented, fertile and well endowed Bob Alcoe
STRING BASS & SOUSAPHONE
Paul Coulten
CASTRATO
Binky Pollock

DRUMS/PERCUSSION/FAMOUS GROUSE
Barry Tyler
TRES FORMIDABLE!
When touring ,however,Ted Barker usually takes over on the Bass.
In addition there is a plethora of wonderful talents that join the band from time to time.